Claudia's first birthday was last weekend. The only thing I wanted out of her party, at least foodily speaking (yes I just made up that word), was a smash cake for her. And fun smash cake pictures with cake and frosting all over her face!
For those not yet in the know, a smash cake is a tradition (started in Italy I think. But I could be wrong. I probably am.) for a first birthday where the guest of honor, or First Birthday Kid, gets his own little cake to SMASH. He or she gets to eat it all on their own and, one year olds not often being very proficient at feeding themselves, get it all over themselves. It's SUPER CUTE. But I'll get back to that in a moment.
As for what we served at the party (small, just family) ...us Hispanics have this thing about pork. Or technically,
pernil
. Special occasions call for a giant hunk of pork roast. "Oh so and so's birthday is coming up. We have to get a giant ass side of pork." It's a mainstay at holidays (I remember one year there was no pernil at Thanksgiving. I threw a minor fit and it reappeared that Christmas.). I can't tell ya why it's important that the roast pork appear at parties and such (those held indoors at least; hard to have roast pork at an outdoor party, for example). I suspect there's a deep philosophical reason, as there usually is, to what foods MUST be at what occasions, like turkey at Thanksgiving and ham at Easter. (Seafood on Good Friday! I'm not even Catholic but I still look forward to that.) All I know is that, for me, a party ain't a party until I've eaten too much pernil.
(fresh out of the oven)
(nicely carved up and ready for consumption - this does not mean that some people had already consumed too much....)
And of course, where there is pernil there must also be rice and beans, AKA
arroz con habichuelas
. But now that I look a little closer at it (I was not eying it very carefully while inhaling it) I actually think that's
arroz con gandules
(pigeon peas). Rice and beans are also a mainstay; even if there are people who object to peas or beans (most often, old people and young people), it's always there.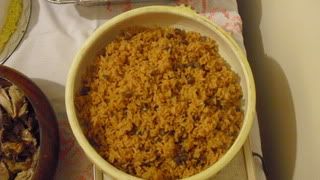 A couple of small roast chickens also made their appearances; my mother in law insisted upon them. She likes roast chicken. What can I say.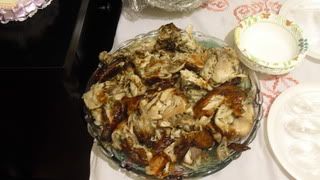 Also, a tuna salad: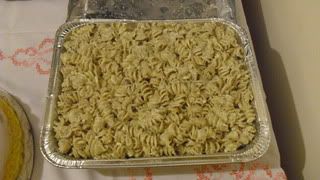 Depending on the size of the party and the time that various Makers of Food have, in our family potato salad and tuna salad often rotate. Sometimes they both show up.
All of the guests;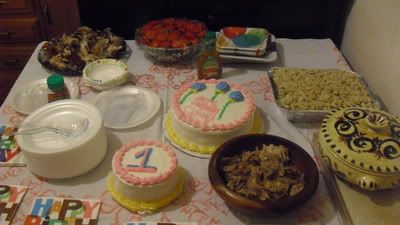 That's a salad up on top and the cakes in the middle. The cakes were bought from a nearby bakery. No one really bakes around here; I know I can't bake to save my life.
Now we'll get to the Smash Cake Fail. For the big cake, we put a single numeral 1 in the middle and everyone sang Happy Birthday - which she LOVED, especially when we got to the part with her name. She's totally in love with herself. We then sat her in her feeding chair with a good-sized bib, put her cake in front of her, and I got ready with the camera to catch some fun cake mess.
NO DICE.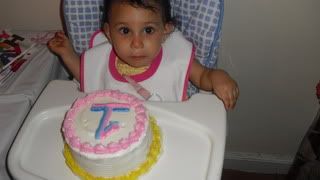 "What's this? Well what am I supposed to do with it? Feed it to me with a spoon dammit you always do."
She did touch it briefly and she even licked it, but apparently she would not destroy it.
Maybe I got a little impatient and put some frosting on her face.
I was confused. I thought children her age were supposed to enjoy destroying things. ALL things. She can certainly make a mess out of a room and change all the settings on your TV if left to her own devices. But then it did occur to me; she does not often make messes with FOOD. Sure she'll throw an animal cracker on the floor with the best of them, but she isn't really known for making messes with food on her own. She much prefers emptying the hamper and subsequently running around with my dirty underwear around her neck, or running away with her dirty diapers. But a pastry mess? "Well I never." She loves making messes with napkins though, and didn't fail to deliver on that.
Back to the pork, though, and the title of this post. I ate a lot of pork. Early and often. I don't know if that was the culprit, or perhaps combined with Too Much Pepsi, but I burped ALL DAY LONG. This pregnancy has been the Burp Pregnancy (last one was the Fart Pregnancy), but it was even more burps than my normal quota for the day. I think I worried a few people. I also ate several (who's counting?....) entire plates of food in addition to the regular scraps of pork, and toward the end of the day I was in the bathroom. Did you ever see
Bill Cosby: Himself
? The part where he talks about people who overdo it when they drink and end up talking to God over the toilet bowl? "Oh Jesus. Oh Goddd. If you get me out of this, I'll never drink as long as I live." It was like that. Only in reverse. Later that night saw me hunched over in the fetal position wailing, with what I can confidently call heartburn (Hot Throat Fart) for the first time ever, positive that this was not preterm labor at all (as women in their third trimesters are wont to wonder) but just paying for stuffing my face with grease and caffeine all day. I have had indigestion every evening since and have invested in a bottle of Maalox.
But no matter. My first baby is no longer a baby, but walking and talking (in a language no one understands yet, but quite loquacious nonetheless). I suppose as long as she continues to crap on herself she'll still be my baby. And I have another year of that at least.